Everyday Hairstyling Lesson
...quick and easy techniques so that everyday can be a good hair day!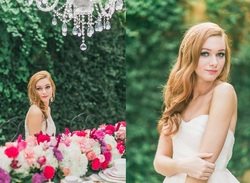 Curling irons, straight irons, hot rollers, tapered irons and more....Vicki not only shows you the basics of using hot tools but she also includes her top red carpet styling techniques that she has learned throughout her years as an award winning makeup artist and hairstylist.

Secret tips she'll share with you!
In this lesson you'll be taught how to incorporate hot tools into your own everyday hairstyling routine so that you always look current and on trend.
Your 2 hour hairstyling lesson will include the following:
An in depth discussion on hair products and the correct hair tools for your hair texture and length
Step by step comprehensive instruction on various styling techniques such as soft curls, beachy waves, everyday vintage styles, fast updo's and more
A detailed written explanation of various hairstyling techniques


This lesson will be customized for you and you only. Perhaps you would like to learn how to do a fast updo for the office or maybe your overall style is more vintage inspired and you would like to learn how to do a quick vintage wave using a curling iron. You tell Vicki what you want to learn and then start saying goodbye to bad hair days!