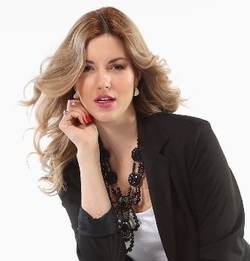 Learn all the pro makeup tips, tricks and techniques with an online makeup lesson taught by award winning makeup artist Vicki Lea Milllar.
One-on-one private makeup lessons customized to your specific learning requirements.
To book an online makeup lesson choose your desired lesson from the menu below, then complete this form to book. It's that easy!
Each online makeup lesson is accompanied with unbiased makeup product recommendations specific just for you and the places where you can order the best makeup products online and in person. Vicki will have her entire kit with her during your online lesson and will explain which products will work best for you and demonstrate how to use them.
What you will need for each lesson:
1. access to the internet via desktop, laptop or tablet
2. access to
Skype
(free to download)
3. a webcam
4. makeup to practice with and any brushes you may own
5. a mirror
Streamlining Your Makeup Routine

This lesson is ideally suited to women who want a good understanding of the fundamentals of makeup application. During this lesson we will cover:
skin care and skin care recommendations

a review of your makeup bag - let's keep what works and let's toss what doesn't!

an explanation of which tools you should keep and/or invest in to make life easier

a makeup lesson tailored to your specific learning requirements covering foundation matching, eyeshadow placement, blushes and lip colours for your skin tone and more
The Bridal Makeup Lesson
Getting married and want to do your own wedding makeup? This is the lesson for you!
How to apply photographic makeup while also understanding common photography issues such as flash back; and which products to use in order to eliminate this effect

Discuss the most effective makeup products that will provide the greatest longevity; in sun, wind, rain, humidity, etc.
Understand basic colour theory so that you work within the colour palette that is most complimentary to you
Learn correct makeup techniques so that you can enhance your best attributes
The Freshen Up Makeup Lesson
Are you tired of always leaving the house wishing you looked better but knowing you're just too rushed to do anything about it? Well, this online makeup lesson will change all that. Vicki will show you how you can start your day off with a fresh 5 minute polished professional face - no gimmicks here, this can be taught and done everyday.
You will feel like a new woman when this lesson is over.
The Customized Makeup Lesson
Have you only got 30 minutes or more to learn a new technique? Want to understand how to slim your face down or maybe how to do a daytime smokey eye in under 5 minutes? Or perhaps you just want to learn which blush colour works best with your skin tone and how to properly use highlighting products. You pick which facial feature you want to concentrate on, and let the learning begin!
Pricing can be found here.
Complete this form to book your online makeup lesson!